Gotta love all the inspiration that comes with award season. All the gowns, all the hair styles, and of course... all of the makeup!!!

The Screen Actors Guild Awards is always the "fun one" for the actors, and you could tell in the interviews down the red carpet. Everyone just seems so much more comfortable. They say the best part for them is that they get to vote for their peers and mentors. I personally love admiring my peer's and mentor's work and I desperately wish I could give them all awards! Wouldn't that be fun!?
The fashion down the SAG Award's Red Carpet is a little more fun and everyone looks a lot more relaxed. I mean, Emma Thompson wore flat sandals and Julia Roberts wore a jumpsuit... it doesn't get much more relaxed for award season than that!

As far as the makeup was concerned- everyone played it cool, fresh, and simply pretty. It was all around approachable and easily achievable.

Here are my painted face picks from the SAG Awards and a couple product suggestions for you to replicate them with!
Monocromatic Amazing-ness
Cate Blanchett

So beautiful and so simple. This is a perfect, everyday, pretty makeup. Going with the same color on the eyes cheeks and lips is the perfect way to look polished but not overdone. You can easily get this look by taking your blusher of choice (I'd suggest Dame by MAC for Cate's soft pink) and popping it not only on your cheek but in your crease as well. Then match a lipstick/gloss (try Snob Lipglass, also by MAC, to match hers) to finish off this fresh, youthful look.
Ethereal Beauty
Hannah Simone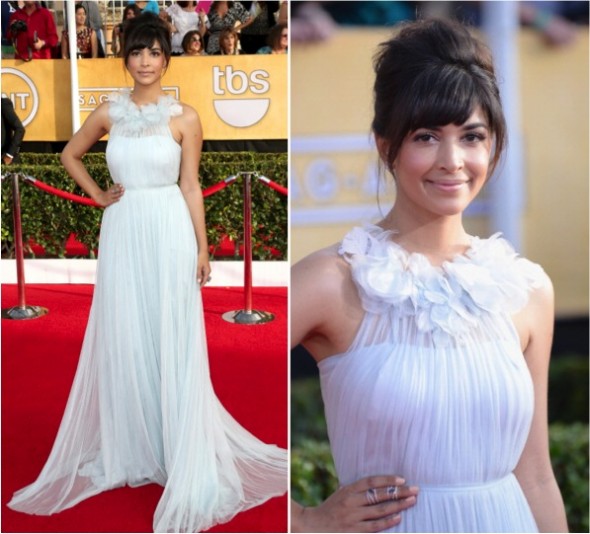 Check out her gorgeous cheek highlight! It's all about the cheeks in this one, since everything else is so muted. We have the usual suspects of bronzer and contour and then we have the stars of this makeup, the blush and the highlight. For blush I'd go for something like Warm Soul by MAC and for the highlight Whisper of Guilt by MAC (limited edition) or BECCA Shimmering Skin Perfecter in Rose Gold. And can I just say- THIS-DRESS-IS-STUNNING!!! I love the super pale blue color!

By the way-- if you're into Jennifer Lopez/ Kim Kardashian glowing skin and have never checked out BECCA's highlighters-- you're missing out on some seriously beautiful glow-y goodness. Go to Sephora and have a look for yourself. They won't disappoint!
Subtly Smokey
Sasha Alexander

Glamorous and natural all at the same time. This look is an extra easy one. It's all about the eyes but also all about not making it too complicated. Line your eyes with a soft brown pencil eyeliner that is smudge-able (Like Make Up For Ever's Kohl Pencil in Matte Mocha Brown 9k), and then take a shimmery golden brown eyeshadow (Like Urban Decay's Darkhorse) on the tip of a pencil/ bullet brush (like MAC's #219) and press it right over top of your eyeliner. The Eyeshadow will set the eyeliner in place all while creating a soft smokey effect up from the lash line. Then take whatever is left over on the tip of that brush and lightly line your lower lash line with it!
Bronzed Bombshell
Katrina Bowden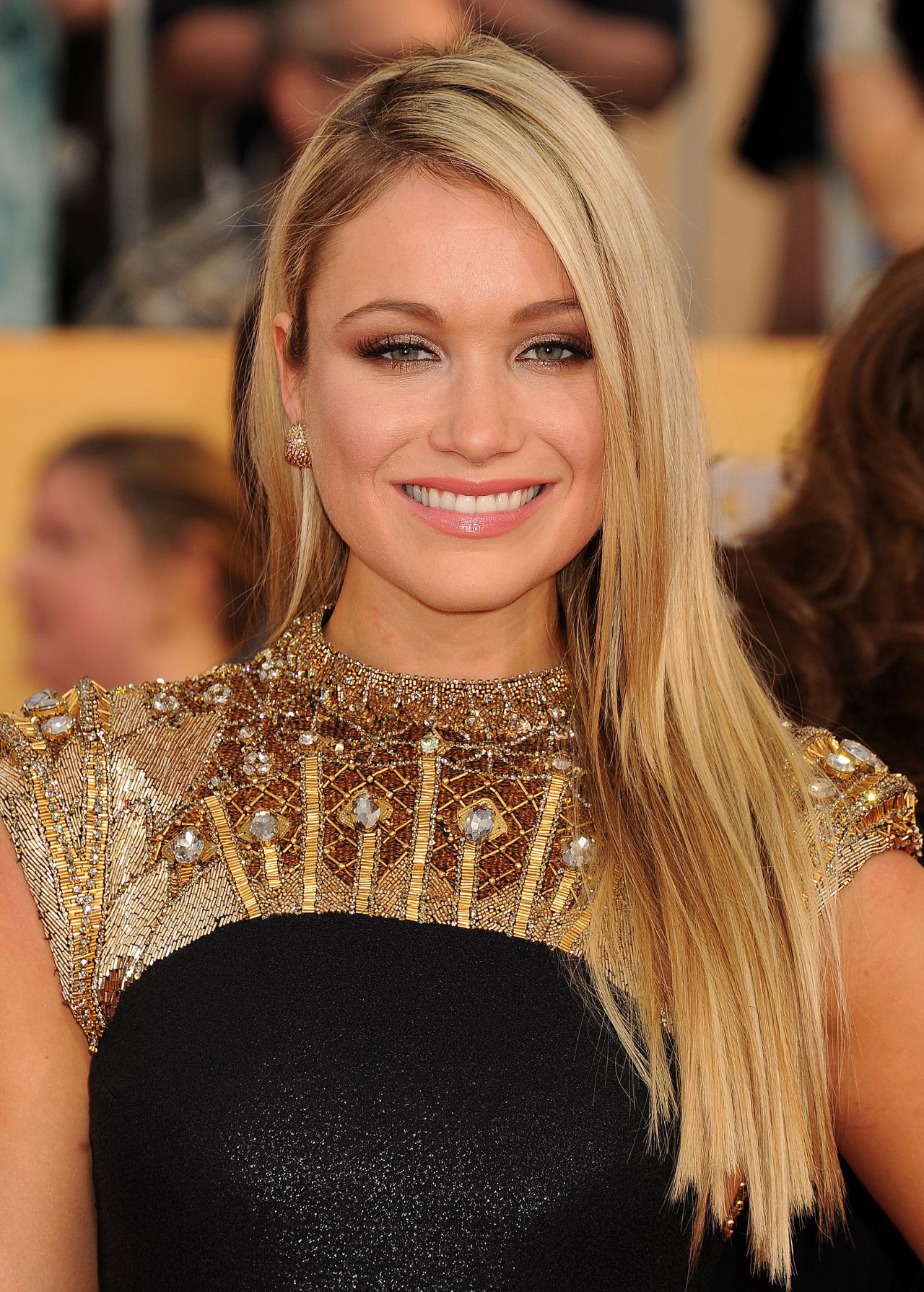 Makeup artist secret- warm browns make everyone look great! Seriously! Whenever I change my hair color (I've been all kinds of brunette, all kinds of blonde, and am currently on a redheaded adventure) you'll find me in bronze-y, golden, reddish, orange-y, brown tones for a few days until I've adjusted to my new do! Exactly the type of makeup on Katrina! It's just something about wearing these colors. The only way I can think to explain it is the colors themselves are so warm and sultry then that somehow transfers to your face and making you feel instantly warm and sultry... That made sense in my head...

A few MAC eyeshadows and placement for them that I'd suggest are Woodwinked on the lid, Saddle all through the crease and blended upwards, and then Folie just through the curve of the crease to intensify the look! Then lash it up with your favorite mascara. This particular look is better with lots of mascara, so- go for it!
Funky Fresh
Lupita Nyong'o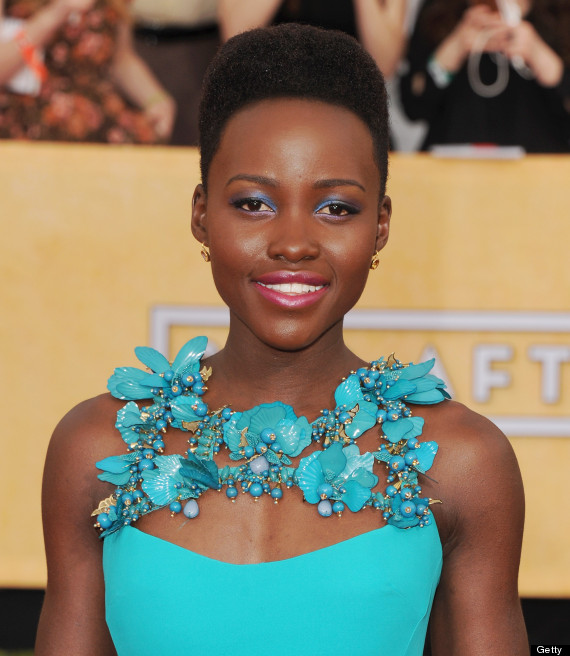 First of all- the blue of this dress is just out-of-this-world fantastic! The cut, the shape, the flowers, the everything is beautiful! Well done Gucci! The dress is fun and her makeup artist went fun with the makeup. Blue can sometimes be a tough color to pull off, especially when you place it like a light wash across the lid. It can go very 80's very quickly. She did it perfectly. This eye creation is a blend of Chanel Quadra Eyeshadow in Fascination and Chanel Ombre Essentielle Soft Touch Eyeshadow in Amethyst.
Red Lip Glamour
Michelle Dockery

The classic combination of black and white with a pop of red never gets old! To get this classic red lippie there is no other place to turn but MAC, and no other color combination to go for but Russian Red lipstick with Cherry Lipliner. End. Of. Story.
Super Smoked
Sandra Bullock

Pick a color and stick to it! I'd go for a charcoal gray/brown (check out charcoal by MAC) from the lash line blended the whole way up. As easy as this sounds it can go into punched-in-the-eye territory if you're not careful. The part that gets tricky is the intensity of your brushes. Go for something flatter and stiffer at the lash line and press the color on and start working your way up, then as you come up on the crease switch to a firm but fluffy brush and start to sweep the color, as you pass the crease do a final switch to a super soft super fluffy brush and continue sweeping. The fade up has to be seamless so just keep blending! When you are done and it's blended to your liking I suggest taking a soft shimmery highlight color (like the color Sin by Urban Decay) and pop it right on the tear duct to brighten and open up this eye look.


Head to Toe Stunners

(I tried to just pick one but I really couldn't)


Sofia Vergara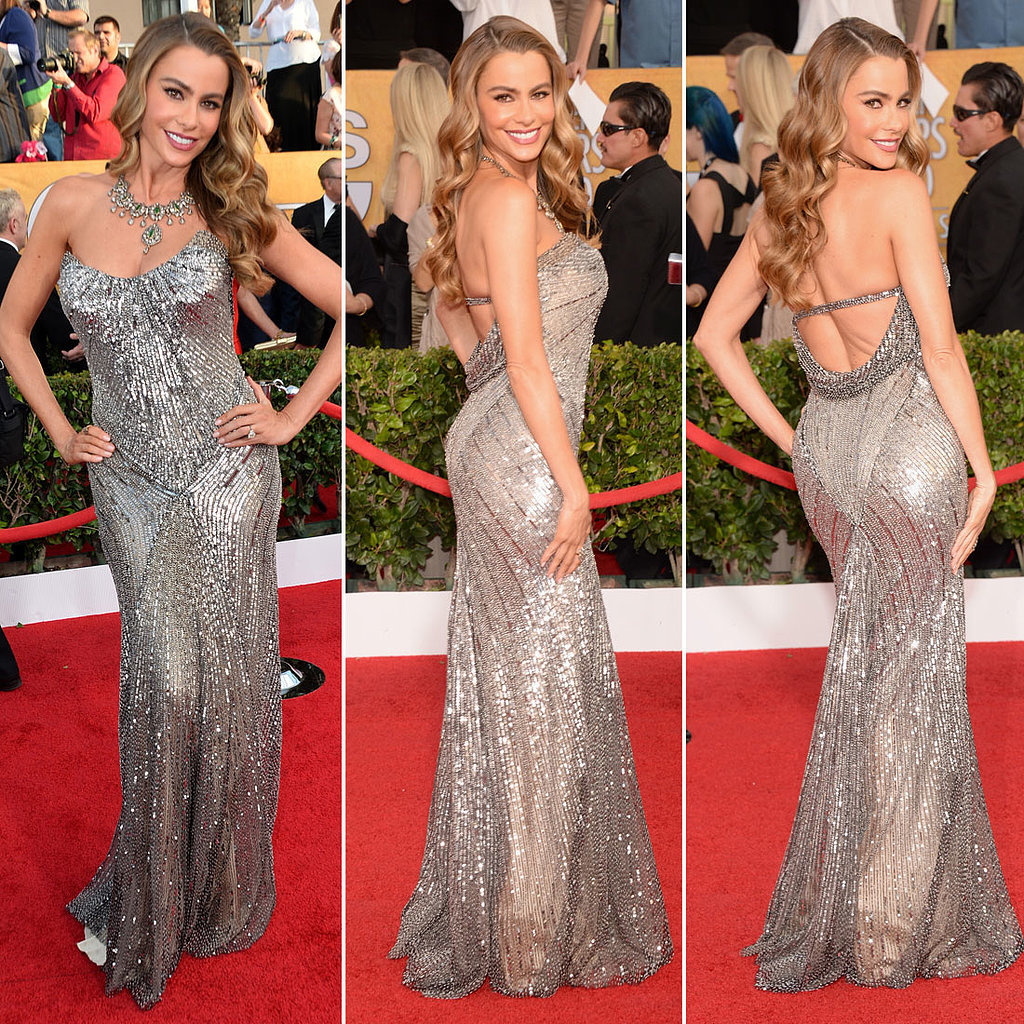 The glitter lover in me just couldn't say no!!! The waves, the makeup, the dress! So beautiful! My absolute favorite thing about her makeup might come as a surprise. I love that she rocks a full and not too perfect eyebrow! Here's a little makeup secret- a full brow is youthful. Combine that with a brighter colored blush, an instant 10 years comes off. Careful though- I didn't say an un-kept brow! Tweeze what needs to be tweezed, but avoid going too thin. If you look closely you'll also notice that her contour and eyeshadow are pointing slightly upward which definitely works to her advantage. And genetics, that plays a teensy-tiny role! Haha!
Amy Adams

By far- my absolute favorite dress of the night! Head to toe she put this together famously! She looks so classically Old Hollywood but then the orange lip and cut-outs on the dress bring it to a fresh and new level. By the way- the blue color of the dress and the orange of the lip- remember my Color Theory post? This is the way to work complimentary colors into your wardrobe! I'm loving the lip with the classic winged liner and pinup inspired hair. For the lip try Redd lipliner and Morange lipstick (both by MAC), the liner is that perfect red-orange color and then the lipstick is just the perfect pop of bright orange!
Did I miss any of your favorites? Please comment them below if I did! Thank you for taking the time to read today's post! I hope you feel inspired to try something new!
Love,