It's the big party of the year for the music industry!
And musicians for sure know how to shake it up in the fashion category- lots of light reflective and sheer fabric numbers. In general, the makeup was balanced so to not compete with whatever they were wearing.

Following suit with my Tuesday review of award show style and makeup, here we go again! Lets get to talking about all the faces that got it right!
Sultry Smoked Out Plums
Rita Ora
One of my favorite looks of the night! The tone of the blue based purple with the tiniest bit of sparkle (check out Sugarpill's Poison Plum Eyeshadow) on her lids perfectly complimented the purple-y tone that reflected off her sleek sequined dress and the old Hollywood waves created a great balance to this look. I love that she didn't do her signature bold lip (although that was a big trend on this red carpet) and she skipped a bold liner, she just went straight to her eyes and lots of lashes. For every day you could just go to town with a great mascara (check out my mascara suggestions), but if you're headed out for a night on the town try Flutter Lashes' handmade mink lash in "Ashley" for the perfect bold lash. They are averagely priced for handmade mink lashes but a bit pricey for a false lash in general, here's the thing- if you treat them right you'll get a ton of wears out of them!
Perfectly Pretty
Katy Perry
Miley Cyrus
These two ladies have almost the exact same makeup, the eyeshadows, lip color, and cheek color are all practically identical. Katy just went a little bolder in a few areas, which takes this look to an intensified level. Isn't it so interesting how just a few makeup alterations can do that!? I think it's fascinating! Lets talk about how they're different...
The most obvious difference is how Katy amped up her eyes by adding in a winged liner and falsies. Which is a really easy way to take any daytime makeup to something more evening appropriate.
Katy added (well- her makeup artist did) a shimmery eyeshadow highlight on the brow bone and tear duct. Try "Shroom" eyeshadow by MAC. It's a soft white color with the perfect amount of shimmer. It's a great way to brighten and "open up" the eyes.
Katy's skin is more of a matte finish through the t-zone making her look a little more made up. By no means is that a bad thing- it's just preference. A little semi-dewy foundation looks more like natural skin verses one with a matte finish.
Katy's brows. Miley looks like she has the smallest amount of brow powder through her brow and maybe a brow gel to set it. While Katy's is filled in a bit more with a brow pencil. Just that one thing takes this whole look from innocent (not a typical word people have used in reference to Miley Cyrus these days lol) to glamorous!
Smoke and Lips
Beyonce Knowles
This makeup is so beautiful. A smokey eye and dark lip can be difficult to pull off without looking a bit drag-queen-ish. She not only pulled it off- she made it look effortless! The problem with making anything look effortless is that it actually requires a lot of effort! Haha!
The trick to this is to not go too sharp and structured on the eyes. Pick one gray eyeshadow color and work on getting it blended seamlessly. This is not the time or look for the perfectionist in you to show up and obsess over sharp clean lines. The smudgier and smokier the better! Just make sure it's blended, smudgy and smokey doesn't mean blotchy...
Definitely contour your face, but I don't suggest going more than 1-2 shades darker or lighter than your natural shade in choosing the colors you're going to work with. You're going to want to keep this contour subtle.
This lip is absolutely amazing!!! To replicate this I would use "Diva" lipstick all over the lip with "Viva Glam I" lipstick through the center of the lip for a red-er pop through the middle and line with "Burgundy" lipliner (all by MAC). Then blot the whole thing and add the smallest amount of clear lip gloss to add a slight shine. You can definitely choose to not blot this lip (it would be just as beautiful), but if you want to replicate this lip perfectly- take a closer look at the photo and you'll see it's not a perfectly sharp, cleaned up lip- it's a little disheveled looking and blotting it will get you there without having to worry about if you did it right.
Lots of Lips
There were a lot of rocking bold lips on this carpet. So I'm going to go straight through the list and suggest what to use to get each of these lip combinations! FYI- all the products will be MAC.
Lorde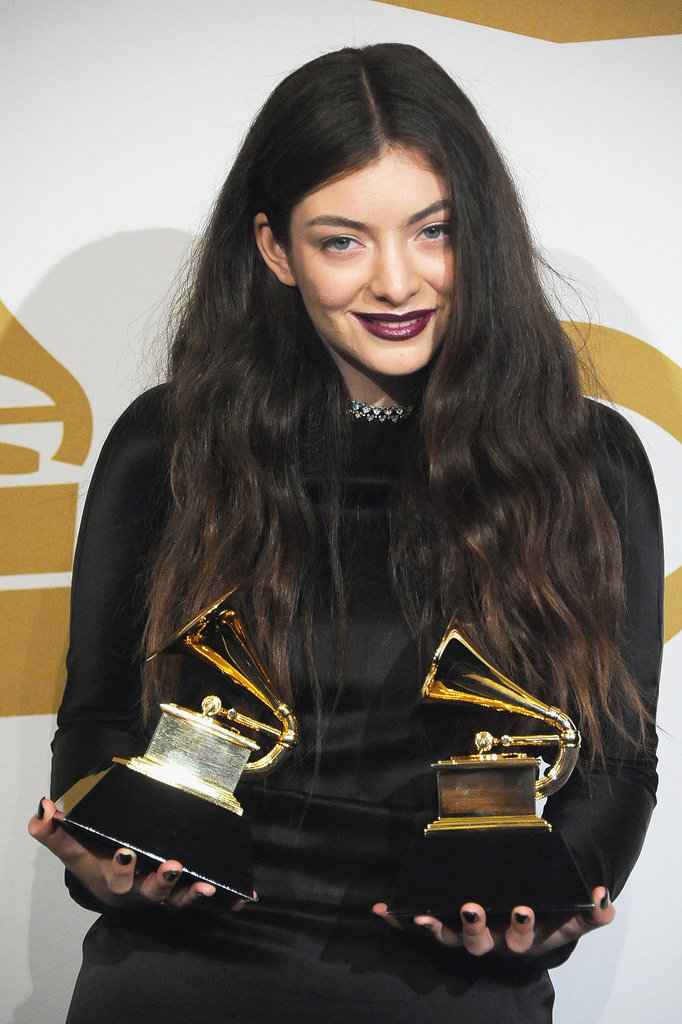 "Nightmoth" Lipliner with "Cyber" Lipstick then "Heroine" Lipstick just popped through the center of the lip
Kelly Osbourne
"Rebel" Lipstick with "Beet" Lipliner
Rihanna
"Viva Glam Rihanna" Lipstick with "Brick" Lipliner
Madonna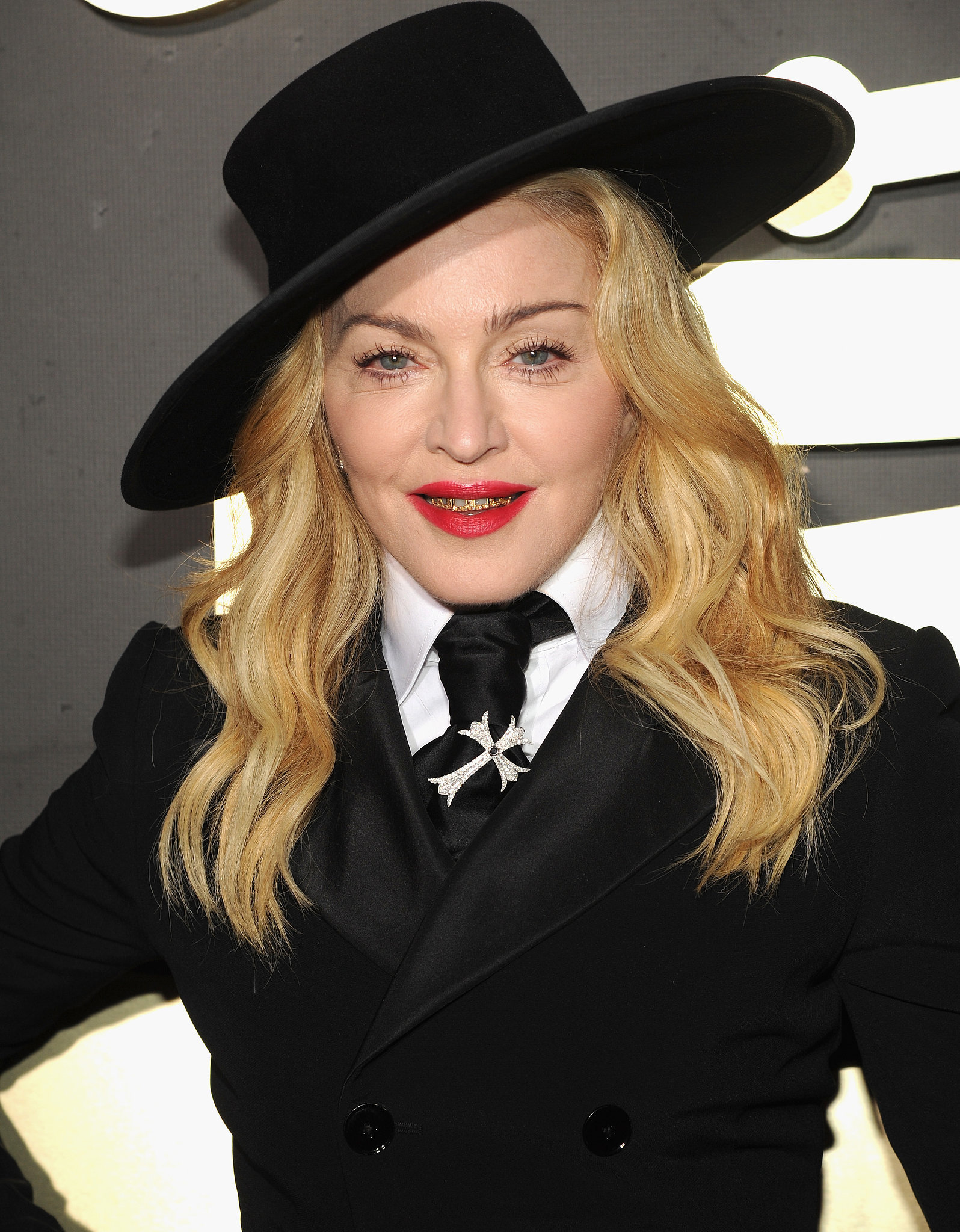 "Cockney" Lipstick applied lightly so it looks like a stain then strategically place "Cherry" Lipliner where ever needed
Sarah Hyland
"Can't Resist" Lipstick with a bit of "Brick" Lipliner
My Pick for Most Amazing Dress of the Night
Taylor Swift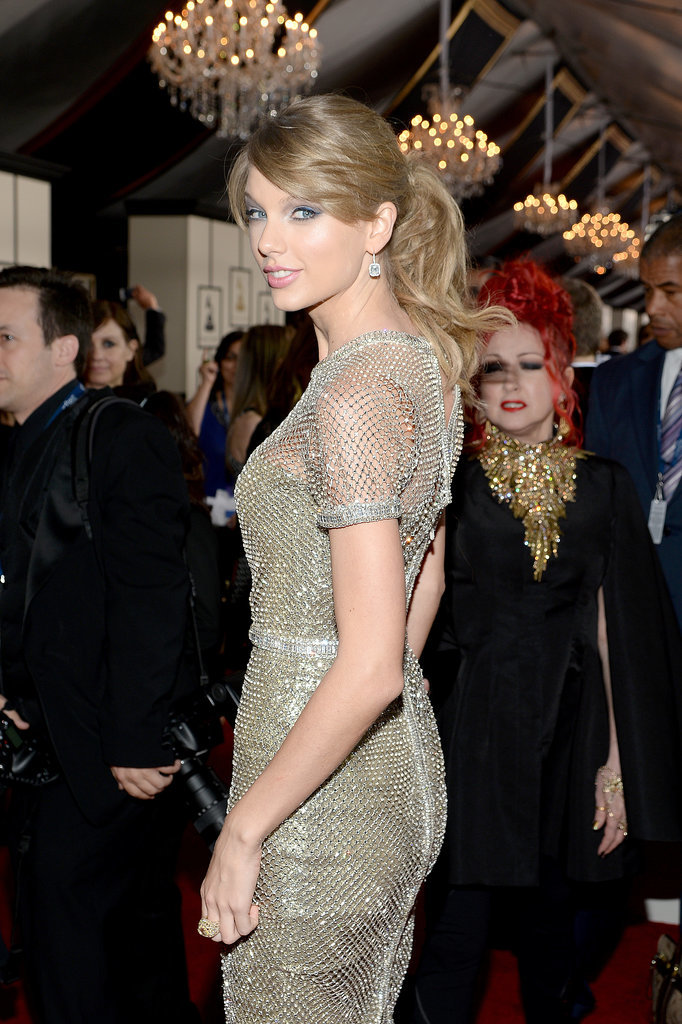 I loved the choice of colors her artist used in her makeup. Her eyes were a plum-y hued gray smokey eye with a navy blue winged liner and lots of highlighter, then the rest of her face was a blend of beautiful soft pinks. When I took a closer look I noticed the application was not as perfected as I thought it should have been (I'm a stickler for a sharp winged liner), but overall she looked so beautiful!
I hope you beauties are having a great week! Enjoy!
Love,
Michelle