My Golden Globes Face Favies!
The Golden Globes is not the award show to go too crazy in the makeup department. Everyone played it pretty safe and stuck to the classics! Nothing wrong with that, they're classics for a reason :)
These are my personal top picks in each category and a few product suggestions along the way--
My Favorite Natural Beauties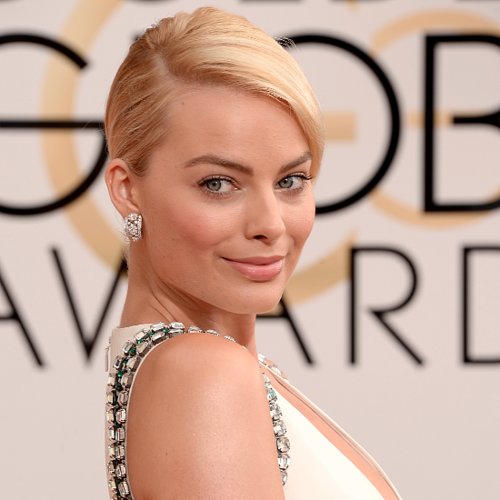 I love a perfectly done natural face. There are two main things to look out for when you attempt this look. It looks easy and straight forward, but attention to detail is KEY!
Pay attention to skin! They both look flawless and have a demi-matte foundation finish. Not too shimmery and not too flat. Just right.
The second thing is a perfectly groomed brow. Never underestimate how much eyebrows contribute to your face. They deserve lots of attention, trust me! The eyes are the window to the soul and your brows are the frame.
Favorite Red Lipped Ladies
Both of these ladies wear red lips as somewhat of a trademark look so it's no surprise that they both are my favorites in this category.
To get Taylor's lip I would suggest lining and filling in your whole lip with Cherry lip liner and topping it off with the tiniest touch of Lady Bug lipstick.
For Zooey's lip I would go with Redd lip liner, lined and filled into the whole lip and then topped off with CB96 lipstick for more of a gold frosted orange-y red!
(all the lip products are by MAC Cosmetics)
Favorite Smudgy Smokey Yumminess
Always a go-to option for every lady-- you can never go wrong with playing up your eyes and keeping everything else soft and muted so you can draw all the attention to your stunning eyeballs.
You first need a great eyeliner, my personal favorite is Urban Decay Cosmetics' 24/7 Glide-on Eye Pencil-- this stuff goes on without pulling or dragging and BONUS it doesn't budge!
The next thing you'll need are some great blending brushes. I'd go for the classics by MAC-- the #217 and #224. You can't go wrong with those two. They do the work for you.
My Favorite Overall Makeup of the Night
Similar to the last category in that it's the classic combo of smokey eye and soft everything else. What I love that is different is that her smokey eye was a dark mossy green color (like Juniper by Stila) and not just grey or brown like so many others that night. I also love that the shape was slightly exaggerated. She took a risk and did something different than everyone else but didn't go too crazy with it. I personally think the makeup also complimented her amazing and fun dress, without being obnoxiously match-y match-y. Perfect!
And Just for Good Measure-- These Gals Dressed to Impress
Cate Blanchett in Armani Prive
(AMAZING!!!)
Lupita Nyong'o in Ralph Lauren
(This one made me happy! I literally smiled!)
Thank you for joining me for my beauty review of the 2014 Golden Globes! I hope you like my product suggestions. Comment below who your favorites of the night were! Did we have any of the same!?
Love,
Michelle
(Confession: I only ever watch the red carpet pre-awards show. Once you've seen one award show, I think you've kinda seen them all.... whoopsie-daisies)